Jim Harbaugh visits Rockford, wooing Quinn Nordin | News
ROCKFORD, Mich. (WZZM) -- There's been a lot of buzz this week about whether or not University of Michigan head football coach, Jim Harbaugh would visit Rockford this week, hoping to woo Rams' kicker, Quinn Nordin to Ann Arbor.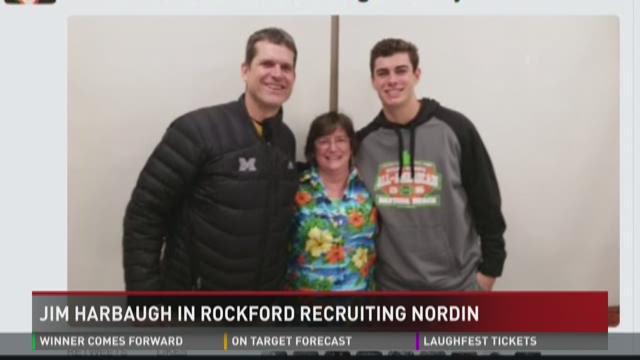 "Under the exact rules, [coach Harbaugh] is going to be at my house at 12:01," Nordin told Scout.com. "That's when it's legal for him to be at my house."
Nordin continued to tell Scout.com, "He said we can watch a movie, see how well we gel, and he said he would sleep over after that."
"He said the next day, if my parents didn't want me to miss school, he would go to ever class with me and go to lunch with me."
Quinn Nordin is considered by most of the college football prognosticators to be the top kicker in the country. He verbally committed to Penn State a few months ago, but Harbaugh is hoping to flip him before Signing Day.